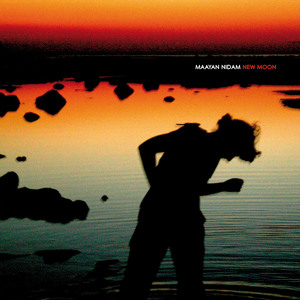 New Moon, Maayan Nidam's second album, is a collection of 11 tracks that combine an array of different styles ranging from down-tempo, jazz, ambient, acid house, progressive techno and "surrealist electro."  Personally, I find this album very profound and progressive due to the abstract composition of its nature. It's one thing to incorporate a variety of genres into your music, but it's Nidam's intellect and talent that has allowed her to create a blissful harmony throughout New Moon.
Beginning with a jazzy number called On My Street, New Moon instantly captivates you. Worming its way through a chill deep house vibe on Harmonious Funk with sultry vocals crooning, "Live in peace, in harmony," it arrives at Trippin' Over You, which is best described as an eccentric synthesizer jam involving a bouncy bass line with psychedelic and distorted vocal clips. The next song, The Great Suspenders, is a very animated song that loses itself in techno breaks. Send A Pigeon then follows; with the album taking you down another unexpected turn with Undermine – Sunday Sunday is its warm piano accompaniment.
Disco loops, filters, delays, and a gorgeous vocal then clash on the short and sweet Lies In Love. At this point, I particularly picked up on the arrangement of the tracks. Nidam creates a little intro and outro that are accompanied by this 3-song bender in the middle, that lasts for a combined 6:45, shorter than some of the songs on the album. This is used to create a storyline for the audience with the intent of resonating the album's messages of truth, freedom, love and the dynamics of life. Additionally, Nidam's use of juxtaposition further demonstrates her feelings of cyclical harmony in the midst of chaos (in this case, her ability to use a wide arrangement of sounds and create a fluid melody). Nidam rounds out the album with Last Moon, a song with warped vocals and twisted syncopated beats, followed by the spacey sounds and vocals of Boastful and finally, Never Forever, which ends the album on a high note reinforcing the album's base ideals of liberty, truth, and the cyclical nature of change.
"Ultimately, New Moon's wide variety of sounds can be directly traced back to Nidam's disjointed discography. As Miss Fitz, her sleazy hypnotic dance music has touched great European labels like Freak'n'Chic, Contexterrior and Circus Company, and she has also released reductionist woozy house as Laverne Radix on Oslo, its sub-label Love Letters From Oslo and Raum…Musik. It is under her birth name Maayan Nidam however, that she has arguably experimented the most, with releases on such diverse labels as Perlon, Powershovel Audio (who released Nidam's debut album Night Long in 2009), and Wolf + Lamb." (The above is courtesy of deejay Ibiza) Mayaan Nidam's open-minded style of creating music is the core of her latest album "New Moon," and it is her mode of expression that will influence aspiring music producers and ever-evolving music pioneers in the EDM scene.
Preview the Album Here
Purchase MP3s Here