Maya Jane Coles has had one busy year. Over the course of the last 18 months, Maya has performed in over 30 countries, won multiple awards, had millions of YouTube views, a million plus spins on Soundcloud, gained more than a 100,000 Facebook fans, graced around a dozen magazine covers and even made it on to Resident Advisor's top 10 best DJs of 2012. Amidst her busy schedule, she still manages to find time to release incredible music. Her latest release, "Easier to Hide" EP, is a diverse EP comprising of four original tracks all written, produced, played, vocalled, engineered and mixed by Maya. This EP is a teaser of what's lies in store from her forthcoming debut album, scheduled for an early Spring 2013 release.
Title track "Easier To Hide" is taken from Maya's coming debut album, and shows Maya's innate ability to create catchy house music; the reverb-drenched guitar in 'Over' is different from the sparse, dub lament of "Back to Square One" whilst Maya ventures into deeper waters with "Run With The Wild". This release serves only to further illustrate just how broad Maya's musical palette is but with a sound and sensibility that are threads intricately woven through the package tying the work into one well-rounded release.  
The "Easier to Hide" EP also marks the first release from Maya Jane Coles own label, 'I Am Me' and his time around, for that extra personal touch, Maya's also designed the artwork for the EP. 
Maya Jane Coles - 'Easier to Hide' EP will be released 7th December exclusively on Beatport // 16th December - iTunes and all other good download sites. Treat yourself to an early gift during the holidays—you deserve it!

Maya Jane Coles - 'Easier To Hide' EP
1. 'Easier To Hide'
2. 'Over'
3. 'Run With The Wild'
4. 'Back to Square One' 
Steve Bug, one of the world's most renowned artists in the electronic music circuit, is set to release his fifth studio album and his most mature to date. Originally planned as a concept album about film noir, Steve found that idea too rigid and decided to use it more as the underlying inspiration like in the tracks"The Spiral Staircase," "Somewhere in the Night" and "Seventh Victim." Noir evokes a world of shady transactions and secret crimes, where the tracks emit a dark and moody atmosphere. Although the film noir concept isn't carried through completely, it infuses the spirit of the record in a way reminiscent of the sci-fi obsession of Jeff Mills or Carl Craig. Tracks such as the pre-released single "Those Grooves" and "No Adjustments," play in to a vision of an apocalyptic-dystopian disco with their evocative spoken word.

The material for the new album was created over a period of three years, which makes its consistency and coherence all the more impressive. Ghostly sounds conspire amidst relentless beats like in my favorite track "Serve Your Mistress" and although the album is driven by head-rushing beats, Noir is a listening album more than anything.
Steve Bug has crafted a rounded, dark, and sophisticated album that casts a shadow over most contemporary dance albums. Noir is worth more than a few listens—it is worth your undivided attention.
Steve Bug - "Noir" (Poker Flat Recordings)
01. Tell Me Why 
02. Poison Of Choice 
03. Serve Your Mistress 
04. No Adjustments feat. Foremost Poets 
05. The Spiral Staircase 
06. Moment Of Ease feat. Emilie Chick 
07. Those Grooves 
08. Somewhere In The Night 
09. Farewell Friend 
10. The Seventh Victim
Steve Bug 'Noir' is released 1st October 2012 on Poker Flat Recordings
Recently electronic [house] artists have been releasing albums that are not only for the dance floor but also an easy listen full of intoxicating vocals that can be enjoyed from start to finish. Yousef's new album, "A Product of Your Environment," achieves this perfectly, as he has "paints a technicolour picture of a DJ long player" with what is being regarded as his finest work to date.
Each track soars beyond its club use and into a composition comprised of its own unique elements of personality. This album was inspired by his personal history and global travelling exploits yet he tips his hat at the melancholic and entrancing works of Pink Floyd, Radiohead and Prince. But not to worry, this album has just as many wild moments that remind you of after hours on the floor of Cocoon, Circo Loco, and Space.
This album is already receiving lots of acclaim from heavy hitters like Loco Dice, Magda, Carl Cox, and Nic Fanciuli to name a few. The project has allowed Yousef to "open up his collaborative instincts too, inviting some unknown but extremely talented musicians to perform."
Each track has been produced, arranged, and mixed by Yousef, with collaborations coming from a variety of artists: Mercury Prize nominee Gwilyam Simcock, Chicago house legend Alexander East, one of the U.K.'s finest classical guitarists Neil Campbell and some unknowns like Tom Crew, whose vocals remind me of a modern day rock band like The Strokes or Interpol.  
The title of the album represents the meaning of Yousef's work. It's an expression of someone for whom dance music has been a career, but who looks to the outside world for focus. In a year where his personal life has reached an all time high, the project reflects experiences he has been through as well as the worldwide clubs he continues to rock—a true product of his environment.
1.Yousef with David Williams – An Old Friend
2.Yousef feat. Alexander East – Think Twice
3.Yousef – For The Terraces
4.Yousef feat. Tom Crew – Had No Sleep
5.Yousef feat. Chari Taft – I See
6.Yousef – What Is Revolution
7.Yousef with David Williams  - Indigo Child
8.Yousef - Unusual
9.Yousef - Beg
10.Yousef – Feel The Same Thing 
11.Yousef – In Fear Of Dusk
12.Yousef  with Gwilyam Simcock - Dissolve
Yousef - "A Product Of Your Environment" will be released 15th October 2012 through Circus Recordings
Sasha's label Last Night On Earth continues to go from strength to strength, from releasing a wide range of eclectic electronic music.
Along with releases from established artists, the label continues to build careers for upcoming talent. The next release from ThermalBear is an example of the young producers coming through. Dennis White aka ThermalBear was chosen by Sasha as someone who stood out from the crowd with his classical take on modern electronic dance music.
His single 'U Love' featuring vocals from Maiday is an expertly crafted piece of electronic brilliance. The track, with its cleverly programmed drums and haunting synths, captures the listener and is sure to be one of those tracks that plays over and over in your head.
Sasha provides a deeper take on the original with his remix. Transforming 'U Love' into a sound that Sasha does better than anyone and in the way we have all admired and loved over the years.
1. American Dream (Supernova Remix)- Jakatta, Joey Negro
2. Mystics-Dusky
3. Salty Days- Smallpeople
4. Work Your Body (audiojack remix)- Daniel Dexter
5. Night and Day (Dusky Remix): Hot Chip
6. House of Jesus (Oscar G Miami Heat Remix): Dax Gaeten
7. Confess- Floorplan
8. Ellipsis- Joy Orbison
9. NoNo- The Glitz
10. Only- NIkola Gala
Henry Saiz is conducting a groundbreaking experiment that takes the relationship between a DJ and his fans to the next level, as he delves into the minds of his audience. The study will put participants under observation in an attempt to capture and access their subconscious and manifest it as music.

His aim? To investigate, if by tapping into the core of fans imaginations and psyches through their personal samples, you can isolate the intangible feelings within these sounds, catching and re-interpreting their essence and adding this to the concept of an album. To create music incorporating a variety of backgrounds, tastes, personalities and influences of a mass collective from completely original and organic elements.

Volunteers will be asked to submit sounds online from the following categories:• Voices (singing, speech, whispers, breathing, thoughts, poems)• Original samples (noises, field recordings, textures, soundscapes)• Live recordings of you playing any instrument (original compositions only)• Any kind of sound or musical element that means something to you. Participants are encouraged to reach into the depths of their creativity and cultivate completely original and unique sounds, no copyrighted samples can be accepted. Absolutely anyone can get involved, the bigger mix of different people, personalities and inspiration, the better. All of the clips can be simply uploaded through step 4 of the website, using a button linked to Soundcloud, who are providing the infrastructure to ensure the project is a success. The samples will be collected, reviewed and manipulated by Henry himself, skillfully using the samples as a foundation for making tracks, adding his own personal touch, sounds and vision to create a first of its kind album.

Henry Saiz will tour in support of the record, released on his label Natura Sonoris. The performances will be inspired by the concept behind the album, aiming to cut, mix and curate the music before the audience's eyes. Using Native hardware and software to cut and augment tracks live, making each of his performances a very exciting and unique experience.

Take part in this mass social study by visiting: www.wearehenrysaiz.com and make music history. You can upload as many times as you like and all samples used in the final album will be credited.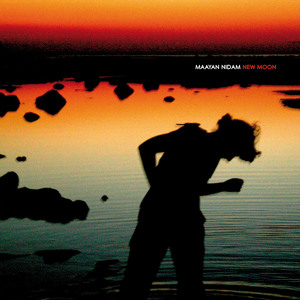 New Moon, Maayan Nidam's second album, is a collection of 11 tracks that combine an array of different styles ranging from down-tempo, jazz, ambient, acid house, progressive techno and "surrealist electro."  Personally, I find this album very profound and progressive due to the abstract composition of its nature. It's one thing to incorporate a variety of genres into your music, but it's Nidam's intellect and talent that has allowed her to create a blissful harmony throughout New Moon.
Beginning with a jazzy number called On My Street, New Moon instantly captivates you. Worming its way through a chill deep house vibe on Harmonious Funk with sultry vocals crooning, "Live in peace, in harmony," it arrives at Trippin' Over You, which is best described as an eccentric synthesizer jam involving a bouncy bass line with psychedelic and distorted vocal clips. The next song, The Great Suspenders, is a very animated song that loses itself in techno breaks. Send A Pigeon then follows; with the album taking you down another unexpected turn with Undermine – Sunday Sunday is its warm piano accompaniment.
Disco loops, filters, delays, and a gorgeous vocal then clash on the short and sweet Lies In Love. At this point, I particularly picked up on the arrangement of the tracks. Nidam creates a little intro and outro that are accompanied by this 3-song bender in the middle, that lasts for a combined 6:45, shorter than some of the songs on the album. This is used to create a storyline for the audience with the intent of resonating the album's messages of truth, freedom, love and the dynamics of life. Additionally, Nidam's use of juxtaposition further demonstrates her feelings of cyclical harmony in the midst of chaos (in this case, her ability to use a wide arrangement of sounds and create a fluid melody). Nidam rounds out the album with Last Moon, a song with warped vocals and twisted syncopated beats, followed by the spacey sounds and vocals of Boastful and finally, Never Forever, which ends the album on a high note reinforcing the album's base ideals of liberty, truth, and the cyclical nature of change.
"Ultimately, New Moon's wide variety of sounds can be directly traced back to Nidam's disjointed discography. As Miss Fitz, her sleazy hypnotic dance music has touched great European labels like Freak'n'Chic, Contexterrior and Circus Company, and she has also released reductionist woozy house as Laverne Radix on Oslo, its sub-label Love Letters From Oslo and Raum…Musik. It is under her birth name Maayan Nidam however, that she has arguably experimented the most, with releases on such diverse labels as Perlon, Powershovel Audio (who released Nidam's debut album Night Long in 2009), and Wolf + Lamb." (The above is courtesy of deejay Ibiza) Mayaan Nidam's open-minded style of creating music is the core of her latest album "New Moon," and it is her mode of expression that will influence aspiring music producers and ever-evolving music pioneers in the EDM scene.
Preview the Album Here
Purchase MP3s Here