Friday 3/25
DJ Icey
Holy Ghost!
Designer Drugs
Royksopp
Trentemoller LIVE (editor's choice for best performance of Day 1)
Carl Cox Closes down Ultra Day 1 from 9PM-Midnight (*editor's choice for best dance party of Day 1)
Day 1, everyone raved about : Laurent Garnier
Saturday 3/26
Claude Vonstroke - This show was really special for me. My friend Aleah and I got pulled up on stage to dance during his late night set. rock star status achieved!
Afrojack
Boys Noize- WOW.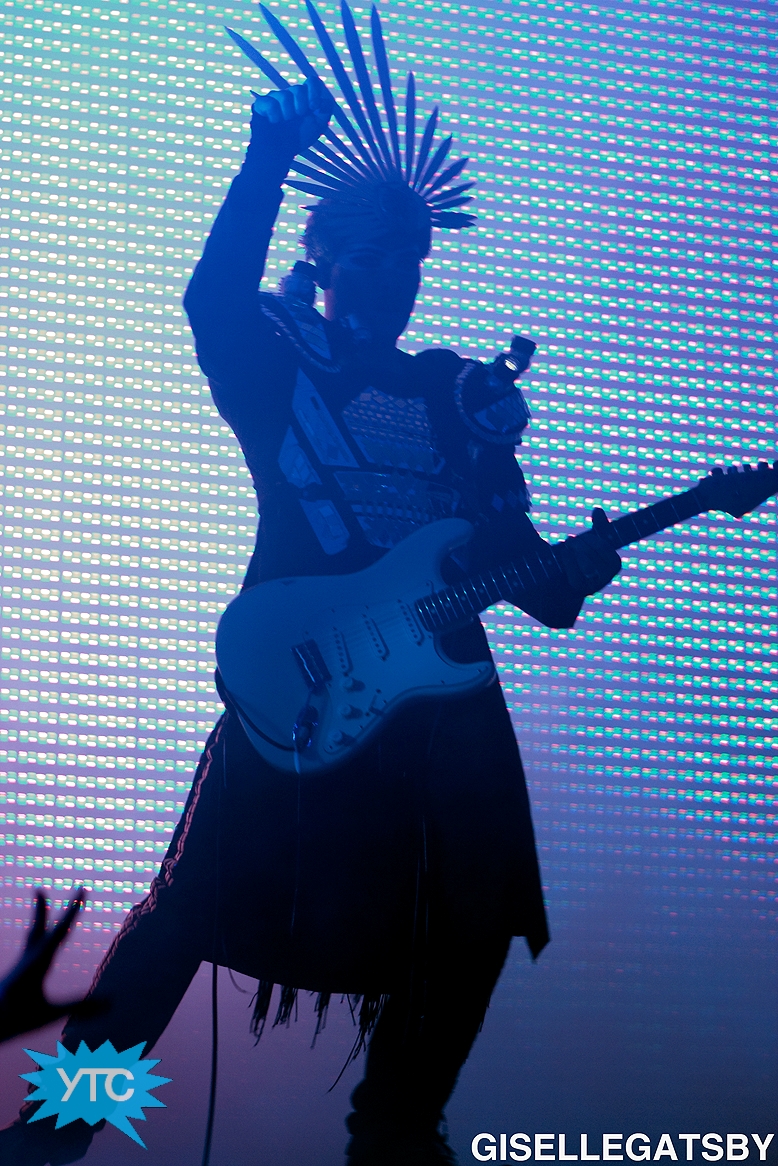 Empire of the Sun- (*editor's choice for Best Performance of Day 2)
Moby- (*editor's choice for best dance party of Day 2)
Day 2 everyone raved about: Rusko
Sunday, 3/27
Wolfgang Gartner
Steve Aoki
MSTRKRFT (*editor's choice for best dance party of Day 3)
Chemical Brothers LIVE (*editor's choice for Best Performance of Day 3)
Day 3, everyone raved about: Skrillex
Fortune Days (Drink the Sea): The Glitch Mob - playing Sunday
Another World: Chemical Brothers - playing Sunday
Way Back Home (Harvard Bass Remix - playing Sunday): Bag Raiders - playing Saturday
Hold On ft. Amber Coffman- Rusko - playing Saturday
—
Move for Me (Extended Remix): Kaskade & DeadMau5 - both play Saturday
Derezzed (Avicii Remix): Daft Punk - throwing down a set Friday and Saturday
Space Junk- Wolfgang Gartner - playing Sunday
PLay House (Vandal Squad Remix): Afrobeta- Playing Sunday
Take em Up (John Talbot Remix): Sh*t Rbot - playing Sunday
—
Must Be the Moon (Hot Chip Remix): !!! - playing Sunday
Little Bit (CSS Remix): Lykke Li - playing Friday
Hearts on Fire (Aeroplane Pop Remix): Cut Copy - playing Saturday
—
Vocal Chords- Claude Von Stroke- playing Saturday
Marnix- Trentemoller - playing Friday
The Bomb (hausjacker remix): Bucketheads
Pap Smear- Crystal Castles - playing Sunday
Fugu- Simian Mobile Disco- playing Saturday
Beards Again- MSTRKRFT- playing Sunday
Happy Up Here (Boys Noize Remix- playing Saturday): Roysopp- playing Friday
Victoria Lucas: Moby - playing Saturday
Tickets for Ultra Music Festival officially went on sale earlier this week. Early bird tickets sold out in LESS THAN 4 HOURS «OMG»
This year Ultra is 3 days long and will take place the last weekend in March (25-27). Fortunately, the event resides in Miami so I will be right in the center of it all! (OBVIOUSLY I already purchased my ticket because this year's lineup is going to be the most epic of all). Although the lineup is not announced until March, some Ultra veterans can be guaranteed like Tiesto, Carl Cox, Moby etc. and others are guaranteed based on current popularity such as DeadMau5 and David Guetta. What about everyone else? Who will fill the 3rd day spot? Well, I have a few predictions that I have put together based on 1) reliable sources 2) common sense 3) intuition. The following is a comprehensive list of my predictions for Ultra 2011 (NOTE:I will be updating this list as artist names are confirmed/released):
Confirmed:
1. As of this morning, Röyksopp has confirmed to fans via e-mail that they will be playing at Ultra this year. This is so exciting! I didn't originally have them on my list but it makes total sense since they did release their 4th studio album, Senior, earlier this year.
2. Crystal Castles has also confirmed they will be playing Ultra again in 2011.
3. CHEMICAL BROTHERS CONFIRMED AS A HEADLINER (11/22) http://blogs.miaminewtimes.com/crossfade/2010/11/the_chemical_brothers_headline.php
Predicted:
Based on last year's lineup, here is a list of the artists I think will return for 2011(not including aforementioned):
1. Bassnectar
2. Caspa
3. Rusko
4. Steve Aoki
5. Wolfgang Gartner
6. DJ A-Trak
7. Diplo
8. Infected Mushroom
9. Lotus
10.Afrojack
11. Swedish House Mafia -NOT PLAYING ULTRA
12. Crystal Method
13. Disco Biscuits
14. Pretty Lights
15. Ghostland Observatory
16. Crookers
17. Bloody Beetroots
18. Eric Prydz
19. Afrobeta
20. Laidback Luke
21. Will. I .Am
22. Kaskade
23. Armin Van Buuren
24.  Skream
25. Sub Focus
(Missing artists but these are the ones I'm familiar with/care about)
Predicted: The following is a list of artists that a) did not attend Ultra last year and b) will probably be performing for the 3 day extravaganza:
1.Daft Punk and Muse as headliners for Day 3: A reliable source (her husband works in the marketing department for Ultra Records) told me that Daft Punk and Muse could very possibly be Day 3 headliners. If this actually happens, I won't even be able to comprehend what is going on and will my brain will probably begin to spontaneously excrete thoughts and noises all over the place.
2. M.I.A- with her second album release this past summer, there's no way M.I.A will not be in the MIA for Ultra performing these tracks.
3. DJ Chuckie- The dirty Dutch deejay himself has been making serious (dance) moves in the second half of 2010. He will be a definite on the Ultra lineup-no questions asked!
4. The Chemical Brothers- I recently just acquired all the discography for The Chemical Brothers and listened to most of their albums on a road trip I took a few months ago. It was the BEST fucking road trip ever, and I was alone. I fell in love with the group and have reason to believe they could be making an appearance since they released an album earlier this year
5. Fat Boy Slim- Because Aleah says so, and she's fucking awesome!
6. Aeroplane- Not only is Aeroplane signed to Ultra records, but Vito Aeroplane has been ALL OVER THE PLACE this year remixing track after track AND came out with a studio album too!
7. Phoenix- Last year hottest indie band, Passion Pit, was the eyebrow raiser when added to the list. Don't doubt that this genre of music will be making another appearance this year but this time in the form of Phoenix
8. Breakbot- he's been all over the place in 2010
9. Flying Lotus- The L.A native had a HUGE year, hopefully he will bringing some of that Cosmogramma to MIA
Wishful Thinking ( A list of artists that I have reason to believe will a) not be at Ultra but b) I would love to see them there:
1. Basement Jaxx (even though they are signed to Ultra Records, I do not think they will be on the list—insert sad face here—)
2.SWEDISH HOUSE MAFIA WILL NOT BE PLAYING ULTRA- http://newsroom.mtv.com/2010/12/13/swedish-house-mafia-leave-ultra-music-festival-behind/